The only one company in Japan
as a bedding machinery manufacturer
We have been supplying bedding machinery for more than 70 years as the only one company in Japan.
Especially TECMIC pocket spring machinery has been evaluated all over the world
because of those performance, quality and our service.
TECMIC pocket spring machine: PKT-330
TECMIC pocket spring machine can produce many kinds of pocket springs for mattresses.
It features a flat top, flat side seals, pre-wire heat treatment, different pitch of double seal can be set on display(0-30mm).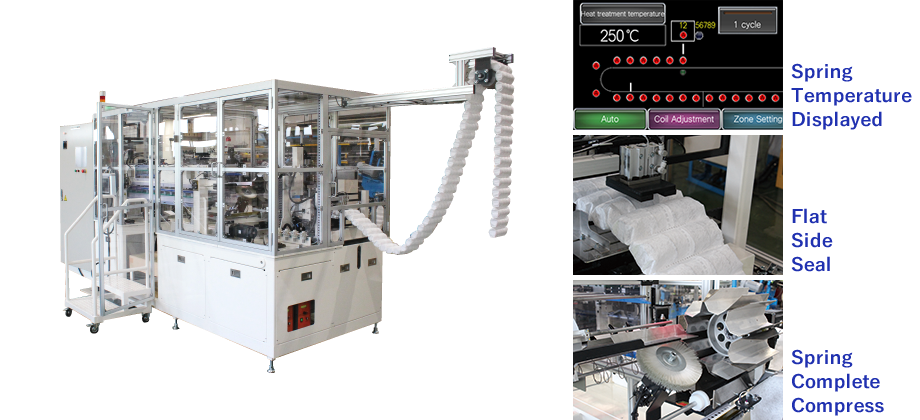 TECMIC pocket spring assembly machine: PKTA-3000
Continuous line of pocket spring is cut and arranged to units as the core part of mattress.

Robot system, Exhibition model
This robot system performs 3 functions (C-ring, Hookring, Hotmelt) by changing tools as a new solution to the mattress industry.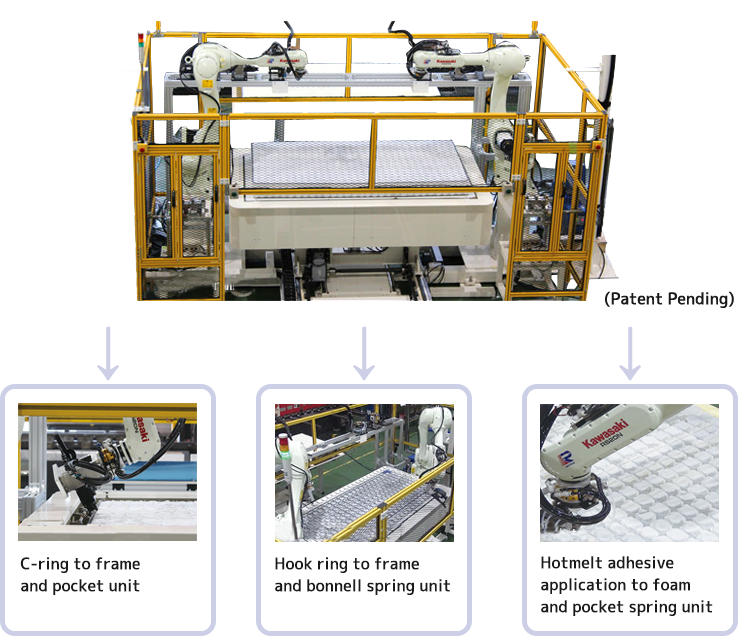 Other Products
Pocket spring manufacturing system
Mattress manufacturing system
Tape edge machine
Tape edge sewing machine
Mattress master
Bonding press for pat
Label sewing machine
Quilting machine
Automatic flanging machine
Border surger
Multi-needles border quilting machine
Vertical border machiene
Panel cutter
Mattress packing equipment.
Mattress-Related Materials
Wire
Non-woven fabric
Adhesive
Auxiliary materials and etc.
Participated Exhibition
ISPA (USA)
interzum (Cologne・Germany)
CIFF (Guangzhou・China)
FMC (Shanghai・China)
Show Room
Kyushu Matsushita Industrial Co.,Ltd (Matsuura city, Nagasaki, Japan)
Customer and Related Industries
Bedding, Mattress
Unit supplier
Sofa
Furniture
Automotive seat parts
Supply Areas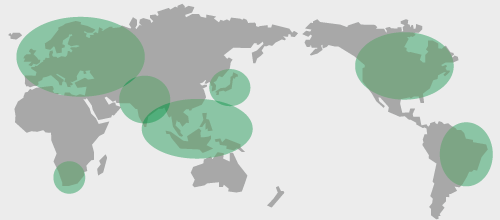 Japan
Europe
North America
South America
Asia
Middle East
Africa etc.
Bedding Machinery Group
Contact Us